#SheDrivesCochran: Anna Johns
#SheDrivesCochran: Anna Johns
You have to take chances in order to be great sometimes. There's no finer example of a woman who's done that and become known for her greatness at #1 Cochran than Anna Johns.
One could easily assume that the Sales Consultant, who has collected so many accomplishments, was born for Sales. However, she said that her career started here purely by accident. "I stopped in to get my car serviced many, many moons ago, and they had sales positions available. I wasn't working… and that's how I started." Anna kicked off her Sales career at our Saturn dealership. That was back in 1991 and she hasn't looked back since.
She's spent the last ten years working at our Monroeville Subaru store. Her time there has been very successful. She has spent eight of those years maintain her spot in our Circle of Honor, reserved for high-selling sales consultants.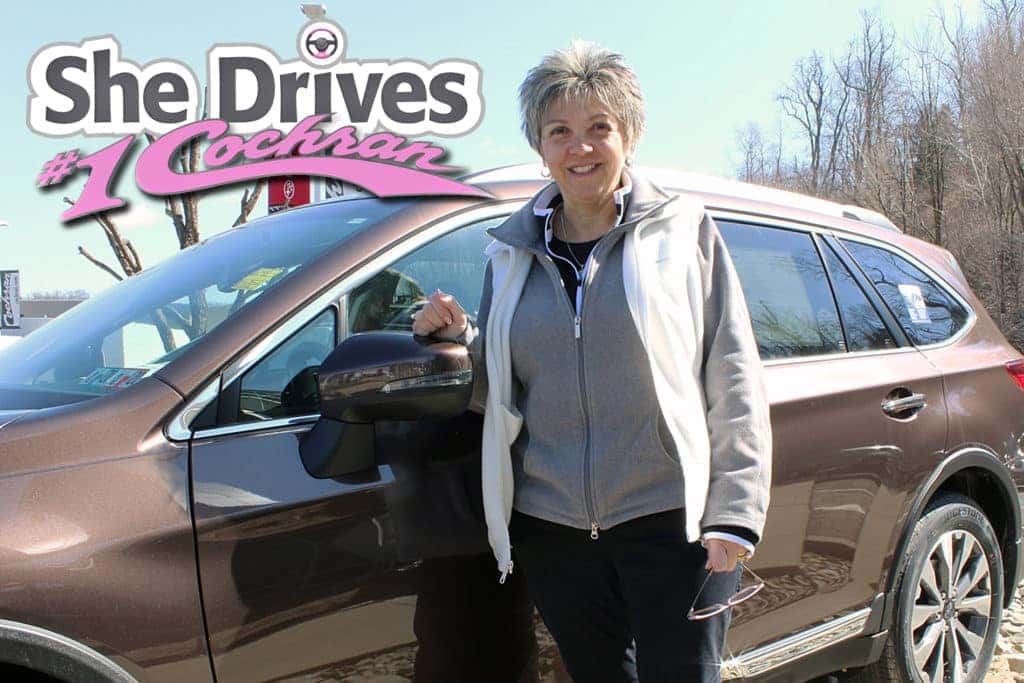 Even those who are not from the Pittsburgh area have heard of Anna. Anna received the honor of top performing Sales Consultant in the Philadelphia zone in 2016, beating over 350 performers in Pennsylvania, New Jersey, and Delaware. She also ranked 25th of every Subaru Sales Consultant in the United States. Last year, she was Subaru's "SubeSTAR." Regions & Distributors nominate sales consultants for this honor and the Subaru Sales and Product Training Team select the winner. From there, the program recognizes shares the winner's story with every dealership in America.
Although Anna acknowledges that the industry was overwhelmingly male-oriented when she started, she's never felt anything other than positivity & support from all of her team members. In true Subaru form, they "Share the Love," and the same work ethic. "I hang tough and I work hard." She's spent all 28 years of her automotive career with us & looks forward to coming to work. "I continue to try to have fun at my job."
Anna, a member of the Women's Business Network's Monroeville Chapter, wants women to know that they can definitely make a successful career out of sales. "You have to work hard in order to achieve your goals," she said. One piece of advice that she'd give to women who are considering the field: remember to take time for yourself. "Try to pamper yourselves," she said. "Take a little time off." Anna finds that balance in her off time by traveling with her husband, Jim, who is a Manager at our Wholesale Parts Warehouse in Natrona Heights.
It's easy to see, from online reviews to how repeat customers speak so highly of Anna in person, she embodies the Subaru Love Promise of making a positive impact. There's no need for us to look to the sky when we have our own SubeSTAR, shining brightly in our showroom.