Contact free
Adapting Our Business Practices To Meet Your Changing Needs
---
New
Contact-Free

Vehicle Delivery & Service Options Now Available
---
To give you peace of mind in these changing times, we've adjusted the way we're serving your automotive needs. From contact-free home delivery to private, in-store shopping appointments to touchless service experiences, we're rapidly adapting our operations to ensure your safety and health.
Learn more about how we've evolved our sales and service processes by reading below.
---
SHOP THE #1 COCHRAN EXPRESSWAY:

THE SAFEST, SIMPLEST WAY TO BUY A CAR
As the first – and only – auto retailer in the market to offer online car buying on 18 different new-vehicle brands and thousands of pre-owned vehicles, we're accustomed to helping customers buy or trade 100% from home. View this video to see how easy it is to complete a purchase or lease without ever leaving your couch.
The process is simple to do on your own but if you need assistance, our Customer Experience Guides are available to help you every step of the way. Contact us if you want to start the process together.
---
CONTACT-FREE

HOME DELIVERY
To further enhance your ExpressWay experience, we're now offering Contact-Free Home Delivery.
Here's how it works:
Our Delivery Associate, wearing protective safety gear, arrives with your freshly sanitized vehicle, then resanitizes the keys, gear shift, steering wheel, dashboard, door handles and more.
All required paperwork and a fresh pen will be placed in a folder inside the vehicle with highlights indicating where to sign.
Our Associate returns to his/her waiting vehicle, then calls or texts to inform you that your car and paperwork are prepped and ready.
Once the documents are signed, you'll be asked to place the envelope in your mailbox or other safe spot for collection.
Our Associate will review the signed paperwork, then call to walk you through your vehicle's key features. If you prefer, this can be performed in person with our Team Member standing 6+ feet away. You'll also have the option to schedule a full demonstration at a future date in our showroom.
---
CONTACT-FREE

IN-STORE DELIVERY
If you prefer to take advantage of our ExpressWay Express Pick-up at our store, we have a touchless experience awaiting you there as well.
Here's what to expect:
Your new vehicle will be freshly sanitized and parked in a designated area for you to view.
When you're ready to sign the paperwork, you'll be directed to a private, thoroughly cleansed room, where your documents and a fresh pen will be waiting.
Depending on your preference, a Business Manager will guide you through the paperwork in person, standing 6+ feet away, or via FaceTime from a different office.
You can then opt for an in-person explanation of your vehicle's key features, in compliance with all safety protocols. You may also schedule a fuller demonstration at later date of your choosing.
---
MINIMAL CONTACT & CONTACT-FREE

SERVICE APPOINTMENT OPTIONS
Our Service Professionals are prepared to work with you any way you prefer, from low contact to no contact. Here's what to expect:
MINIMAL CONTACT SERVICE
When you pull into our service lane, simply remain in your vehicle while our Service Advisor, wearing protective safety gear, makes notes on an iPad to complete the initial assessment.
If you choose to wait for your vehicle, you may do so in our customer lounge areas, which we've rearranged to maintain proper social distancing. All of our guest lounges and high touch areas are sanitized multiple times daily.
When your vehicle is finished, our Service Advisor will review the work performed and secure your credit card information while remaining 6+ feet away.
Your sanitized key will be given back to you in a clean envelope and your freshly serviced and double disinfected vehicle will be ready to go.
CONTACT-FREE SERVICE
When you arrive for your appointment, temporarily park your car in our guest parking area.
Place your keys and information into our secure drop box.
Our Service Advisor will keep you updated throughout the day via text, email or phone.
When your vehicle is finished, we'll notify you and email a copy of your invoice and your complimentary multi-point inspection report.
If payment is required, we'll secure your credit card information over the phone and let you know where to locate your vehicle.
When you pick up your freshly serviced and sanitized vehicle, your keys will waiting be inside.
---
A LOT OF LIVING HAPPENS IN YOUR CAR
WE'LL DOUBLE DISINFECT YOUR VEHICLE FOR FREE EVERY TIME YOU COME IN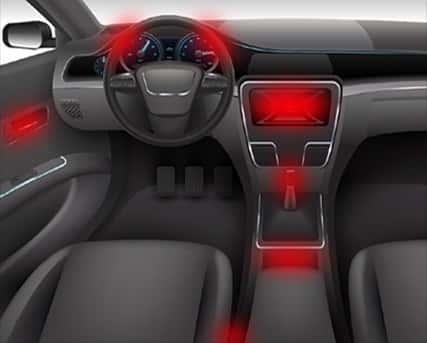 As a special service to our customers, all vehicles will receive a complimentary double disinfection and microfiber wipe-down with every service visit.
The service includes a thorough sanitization using hospital-grade disinfectant applied two times: first when you bring your vehicle in and again upon returning it back to you. We focus on these high-touch areas – and more:
Steering Wheel
Door Handles
Gear Shifter
Cup Holders
Seat Belts & Buckles
Push-button Areas on Dash & Doors
Touch Screens
Wiper Controls
Turn Signal Stalks
Passenger & Driver Seating
Armrests
Grab Handles
Seat Adjusters
Keys & other areas
To find out more about the safety measures we're taking to protect the well-being of our customers, communities and team members, CLICK HERE.