Watch a Full Track POV Simulation of Pittsburgh International Race Complex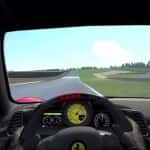 Have you ever wondered what it would be like to be a race car driver? This POV full track simulation of the Pittsburgh International Race Complex allows race enthusiasts to visualize the driver's perspective.
Posted by Pittsburgh International Race Complex (March 20, 2015)
In January 2015, a young developer worked on his own to develop a simulation of our new South Track, using US geological data and some maps that had circulated around the internet. The video was posted to YouTube and quickly spread to chats and forums of racing interest.
We took notice and were impressed. We also noticed a few inconsistencies and adjustments we had made in the track plan. We decided to reach out. After a few conversations, Mr. Michael Ferchak was given the actual CAD that was used to grade and excavate for the track as well as all paving and curbing data.
What has emerged is an accurate representation of the full Pittsburgh International Race Complex track and facility. This simulation is based on the Assetto Corsa game platform. What you are about to see is a hot lap in a Ferrari 458 Italia and a Shelby Cobra. The track is built to spec and most closely represents the racing line and car performance using true data. Enjoy!