Subaru Performs Extensive Pet Crate & Carrier Crash Tests (Video)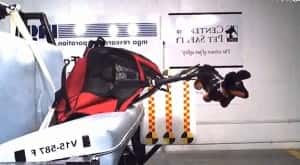 Subaru is known for making safe and reliable vehicles, but the innovative auto maker recently took this one step further by focusing their attention on our beloved four-legged passengers. In a collaboration with Center for Pet Safety (CPS), a registered 501(c)(3) non-profit research and consumer advocacy organization, Subaru of America, Inc. set out to examine the effectiveness and overall safety of pet crates and carriers through extensive crash test simulations.
Many pet crate and carrier manufacturers state their products have been crash-tested for safe use, but there are currently no standard test protocols to back their claims. Subaru was determined to offer pet lovers some peace of mind by crash-testing top pet carriers themselves and the results were shocking (as shown in the video below).
"We at Subaru recognize the importance of keeping the entire family safe on the road, including our beloved pets," said Michael McHale, Subaru's director of corporate communications. "Alongside Center for Pet Safety, we are proud to help lead the charge in identifying the best crates and carriers for pet lovers everywhere, while, more importantly, making pet parents aware of the safety measures they can take and the dangers that can occur if they don't. We recommend that owners choose the right sized crate for their dog, which is generally six inches longer than the body of the dog. We are also pleased that our crossover vehicles, which are award winners themselves for safety, accept most crate and carrier sizes."
TOP PERFORMING PET CRATE: Gunner Kennels G1 Intermediate with 8' Tie Down Straps
TOP PERFORMING PET CARRIERS: PetEgo Forma Frame Jet Set Carrier with ISOFIX-Latch Connection and Sleepypod Mobile Pet Bed with PPRS Handilock