#SheDrivesCochran: Kelly Miller
#SheDrivesCochran: Kelly Miller
Upon walking into the office of Assistant Service Manager, Kelly Miller, you can't help but notice the picture on her wall:
Our legacy lies in the future, not in the past
Seeing her pleasant interactions with everyone in the North Hills INFINITI service department—customers, techs, and everyone in between—could easily make you believe that it's about Kelly. She radiates a positivity that you look forward to seeing as you pull up to the service entrance.
Kelly's interest in the automotive world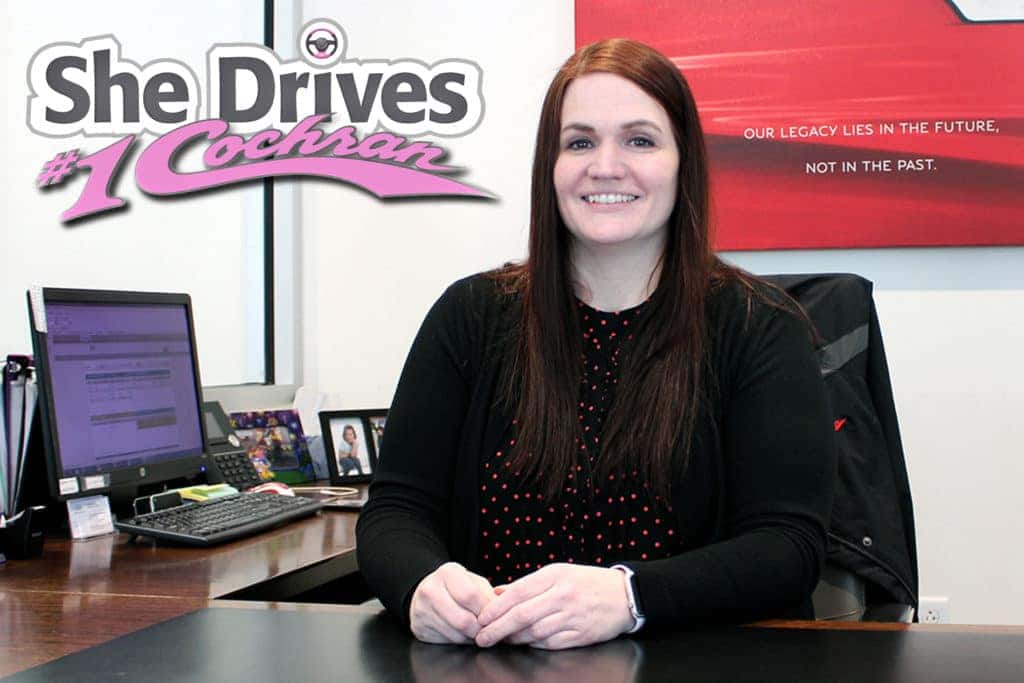 started at home. Her stepfather collected classic cars. She said that she was always interested in them. Down the road, she took a part-time job as a Rental Car Manager and said that she's been hooked ever since.
Kelly has been with #1 Cochran since 2014. She's also one of two women in management on the service side at her store. She's divided more than 21 years in the automotive between a few dealerships, so she's had enough time to back her claim when she says that her time at #1 Cochran has been the best by far. "I do not feel like a number," she said. "I am treated like a person with worth."
A typical day for Kelly is fast-paced, but she creates a good time going through every task handed to her. She usually comes through the door at work to customers waiting for her. "I am very much a people person, so that's the fun part for me." After going over the vehicle and the customer's needs, Kelly follows it through the service process. She's sure to keep the customer informed every step of the way. Kelly prides herself on excellent customer service and enjoys the positive feedback that she receives from customers: it could be just nice words, or in some instances, they've brought her baked goods! It's also very clear that her team feels the same way. "We have great camaraderie… It truly makes work feel more like fun."
The true mark of a leader is often shown in how they respond to obstacles. Kelly has seen many of the same things that other women in this industry have seen. Some find it irritating. Kelly, on the other hand, said that she's enjoyed others being surprised by seeing a woman in her role and her ability to handle whatever is thrown at her. "I have always been able to win them over with my knowledge and ability to help… mixed in with some charm, of course," she said. "Most of the time, they become my best customers and keep returning to me."
Kelly eagerly encourages women who are considering a career in this industry to go for it. "It's always changing, so of course, never boring," she said. "Plus I get to drive some amazing vehicles!" She said that this has been a great career path for her and believes that women do very well in automotive. "I go home feeling rewarded and excited that I work in this industry."
There's no doubting Kelly's impact on her team today. We hope that more women like her seize the opportunity to build their automotive legacy in the future.