#SheDrivesCochran: Kate Galante
#SheDrivesCochran: Kate Galante
Women in automotive don't limit themselves to just working; they win. Kate Galante is a name that all of us at #1 Cochran know for this reason. Her determination to succeed at everything that she does makes her stand out in the sea of Service Techs.
Growing up, she helped her dad—a Do-It-Yourselfer—with odd jobs. "I like the feeling of accomplishment I get from a job completed with my own two hands." These moments laid the foundation for her career criteria.  "The automotive industry offered more of a variety in advancement, challenges, and more excitement." Kate went on to receive her Automotive Technology degree from CCAC. She joined the #1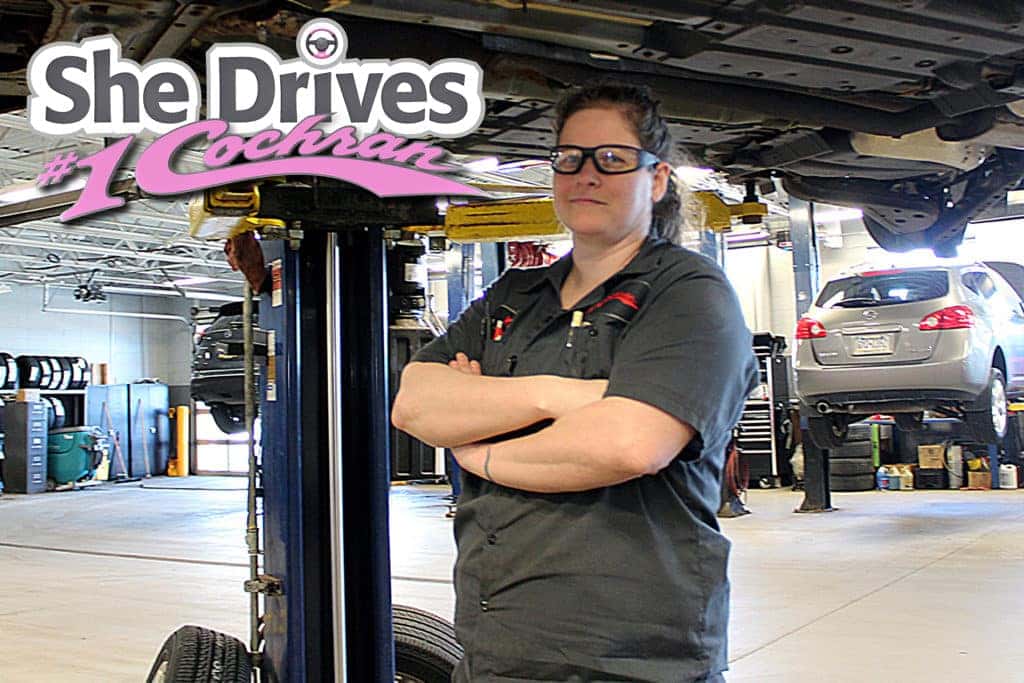 Cochran team in 2010 as a Quick Serve Service Writer and Express Technician.
Kate doesn't accept obstacles in her way. That can-do attitude easily explains the number of accolades that she's acquired during her time at #1 Cochran. Kate has won Nissan's Award of Excellence award in 2012 and 2018.  In 2017, Kate attained elite status in automotive repair by becoming Nissan's Master Technician.  In order to do this, she had to earn all of the eight certifications offered through the Automotive Service Excellence (ASE). Some of the certification categories include engine repair, heating/air conditioning, and electrical systems. That's no easy feat for a man or a woman. However, it is rare in Kate's case: she is the second woman in #1 Cochran's history to ever earn Master Technician status. She's also the first to achieve it in more than 20 years.
Later that year, Kate also received our highest honor: the Margaret E. Cochran Standards of Value Award. This reward is meant for those who perform at an exceptionally high level and demonstrate #1 Cochran's Standards of Value:
Act with integrity
Build a winning team
Breed customer loyalty
Deliver results
Always improve
Having a winning team behind you certainly makes it easier to achieve your goals. Kate said that her time at #1 Cochran has been great. "I have had excellent managers who encourage me & make me feel as though my input is valid. The guys in the shop treat me like any other technician." Fellow team members have had great things to say about Kate: "[She] can be counted on for whatever, whenever"; "[Kate] makes those around her better"; "She's sincere and truly cares about everyone on her team."
Kate said that women interested in automotive should be confident and have thick skin. She also said that they should not be afraid to ask for help. That may seem easier said than done for a woman in a male-dominated field. But if can Kate can accomplish so many great things by working with and raising her hands, then we shouldn't think twice about following suit.