#SheDrivesCochran: Jessica Cupini
#SheDrivesCochran: Jessica Cupini
The odds are high that you will see a lot of men on the showroom floor at our South Hills Volkswagen store. But when those guys need guidance, inspiration, and assistance reaching their goals, they turn to a woman: Sales Manager Jessica Cupini.
Jessica joined the #1 Cochran family in 2017. As the two-year mark creeps closer, she admits that her time here has been better than she ever could have imagined. "It is still refreshing to be excited to come to work every day and love what you do."
Jessica's interest in automotive came about during a college internship with Enterprise Rent-A-Car. "I really enjoyed working with customers, the business aspect, and playing with new cars," she said, "I figured I might as well try selling them."
The Sales Manager admits that initially, she'd receive a variety of reactions when she would explain how something in a car worked or answered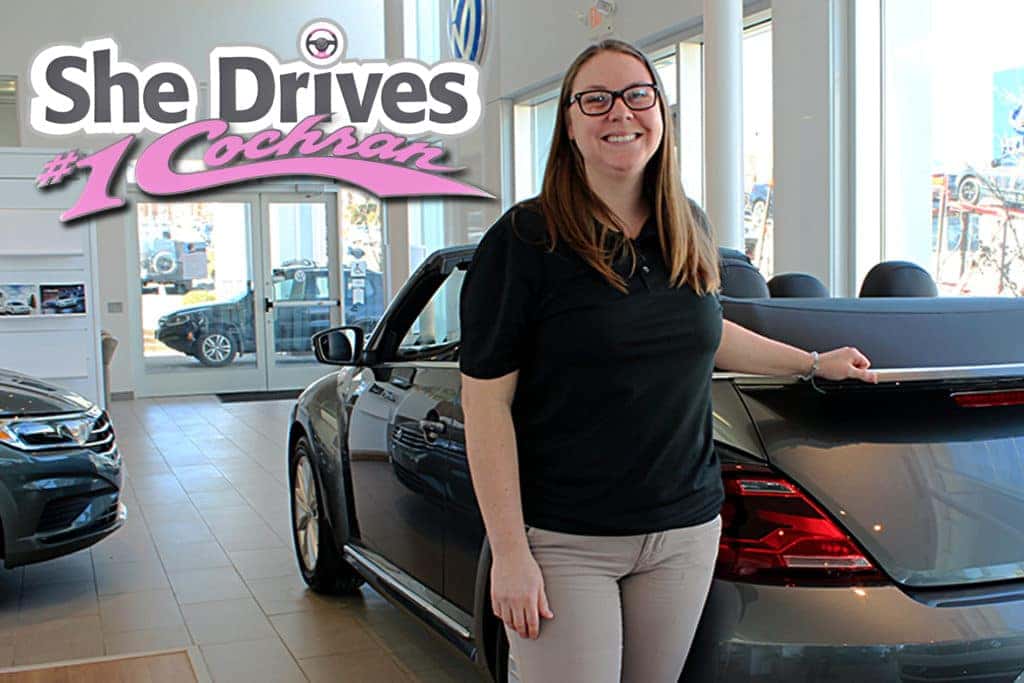 certain product knowledge questions. "Some customers– both male and female– would be shocked I would be able to answer," she said. "When I first started selling, I was at the first desk when you walked in the front door; it was baffling to some people that I was a salesperson and not the receptionist or greeter."
Jessica said that she's big on self-reflection for all scenarios, good and bad, in order to improve. She also prepares for any potential hurdles in her day by always seeking ways to be better at her job: staying up to date on product knowledge as much as she can, going to any and every kind of training offered by Volkswagen.  "The only way to overcome [obstacles] is to let your performance speak for itself."
Her advice to women who are thinking about making the move into automotive is simple: just do it! "The automotive industry is so dynamic in the avenues you can pursue and it could certainly use the diversity," she said. "It is extremely rewarding, you just need to have some passion and perseverance."
Increasing diversity is part of a bigger discussion that even Volkswagen has been having. "We are making Volkswagen more attractive for women because the company needs their know-how," said Dr. Karlheinz Blessing, Member of the Management Board responsible for Human Resources. The company is encouraging diversity, as well as the change of perspective that comes with the growing number of women in all aspects of the brand—especially in management. "Their potential will be one of the key factors in the future competitiveness of Volkswagen."
A wise woman once said, "The only safe ship in a storm is leadership." Not only are we confident that it will be smooth sailing with Jessica leading the crew, but we also hope that more women will follow her path.