#SheDrivesCochran: Donna Dunnivan
#SheDrivesCochran: Donna Dunnivan
Donna Dunnivan's time in the automotive industry has taken her on an incredible ride.
Her love of cars brought her to the starting line. "I used to race cars," she said. Her eyes lit up as she recalled her favorite car to race:  "A '55 Chevy with a 327 engine." With that level of passion & focus, it's no surprise that her transition from the drag strip to the showroom has been a very successful one.
Donna has been selling vehicles for 42 years. The majority of her time in this field has been spent at #1 Cochran; Donna signed on in July 1988. The Bureau of Labor Statistics reports that women currently represent about 21% of the automotive workforce. The numbers when Donna entered the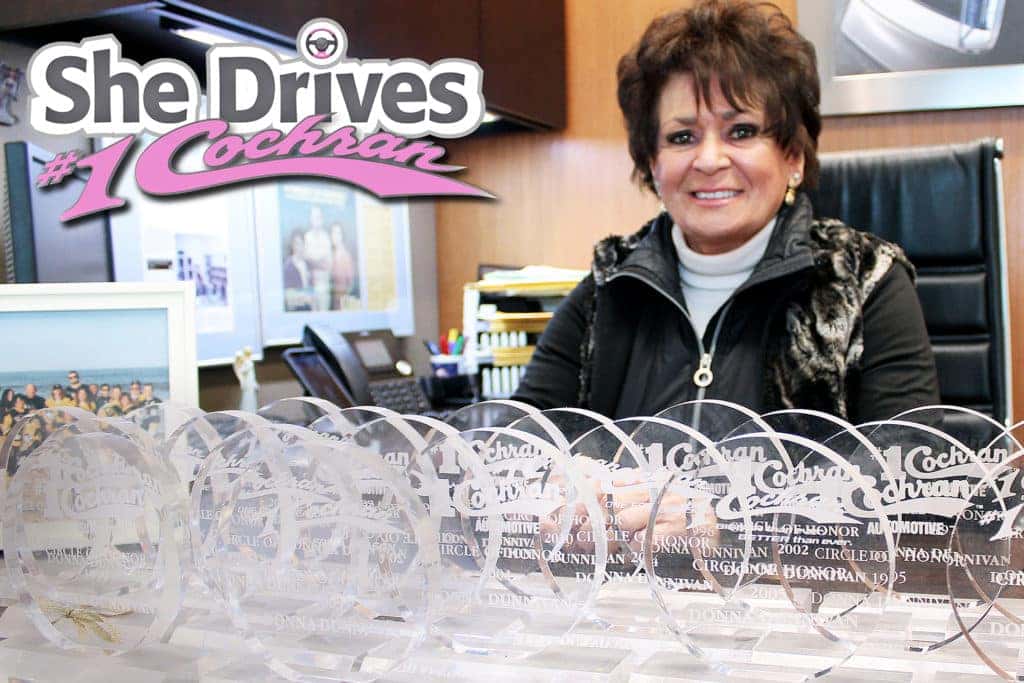 industry were even lower. The lack of potential role models could have scared Donna away. Instead, she became a role model, featured in magazine profiles and winning numerous awards. She said that staying focused and earning the customer's trust is a big factor in why a majority of her customers are women, stating that, "they believe in me."
She was part of our very first Circle of Honor in 1994, which recognizes high-selling Sales Consultants every year. This seemed to be a piece of cake for Donna; she's received the honor 21 times. In fact, some of her awards didn't fit in the picture. "I've won so many trips [with Circle of Honor]," she said. "Glamorous places, cruises, Vegas, very, very luxurious places. Earning them & getting rewarded with them has been a wonderful gift in this job." She credits her Cadillac team and other team members for creating an environment that made it easier for her to thrive. "I love all of my peers and all of the people I work with… we have a very good family here."
Donna's advice to women looking for the road to success in the automotive world: dedication. "Use your time wisely, be genuine and most importantly, dedicate yourself to taking care of customers. Once you do, success will take care of itself."
We at #1 Cochran—men and women alike—appreciate Donna's hard work. Her trailblazing career is nothing short of inspirational. Without her achievements, who knows how things would go for the women who came after her?
Thankfully, we'll never know. But we will be taking a closer look at some of those women in the coming weeks. Stay tuned for more #SheDrivesCochran.