32nd Annual Family House Polo Match at Hartwood Acres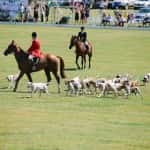 Family House provides an affordable "home away from home" for families seeking medical treatment at Pittsburgh-area hospitals. One of their largest events has long been the beloved Family House Polo Match at Hartwood acres.
Now in its 32nd year, the polo match is a fun-filled day featuring posh picnicking, vintage cars, children's activities, a silent auction, shopping, wine and spirit tasting, and of course an exciting professional polo exhibition match.
We'd like to congratulate both teams on a great game and offer special thanks to everyone who came in support of Family House. In our 18th year as a polo match sponsor, the #1 Cochran Potomac Polo Club defeated the Howard Hanna Virginia International Polo Club, 12-7, with Juan Carlos Garcia winning the MVP honor.
We brought some "horses" of our own and guests had the opportunity to saddle up in several luxurious, high performance Infiniti and Audi models on display throughout the day. Although the weather kept some folks away this year, the 1,300 attendees to the 2015 Family House Polo Match enjoyed a spectacular day of polo and the warm feeling of giving to a worthy cause.
Several #1 Cochran team members and their families volunteered their time at the event by parking vehicles and helping to staff various activity tents, including Steve Adams, Lisa Adams, Vanessa Adams, Zack Adams, Matt Horn, Sharon McRickard, Becky Halko, Brian Halko, Michelle Lee, Ashe Crabtree, Todd Hurst, Autumn Hurst, Donna Gregg, Carolyn Garufi, Cindy Resavy, and others. We can't wait to see you all again next year!