#1 Cochran Subaru Donates Science Books to Local Middle Schools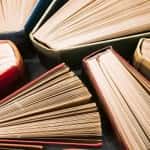 As part of #1 Cochran's commitment to making a positive impact in communities, our Subaru stores donated 300 science-themed books to area middle schools this month.
Each store conducted a book donation drive during the recent Subaru Loves Learning initiative. The goal: to provide prize-winning books that engage young students in the sciences and inspire them to learn more.
The efforts generated 200 books for Gateway Middle School in Monroeville and 100 books for Butler Middle School in Butler County. Each book was donated on behalf of a customer who purchased a #1 Cochran Subaru, and the customer's signature appears on a personalized label inside the book's front cover.
The American Association for the Advancement of Science (AAAS) has recognized the donated books as being among the best science books in their field. The titles include: " Mission: Mars," by Pascal Lee; "The Kid's Guide to Exploring Nature," by Brooklyn Botanic Educators; "The Case of the Vanishing Golden Frogs: A Scientific Mystery," by Sandra Markle; "Wild Horse Scientists," by Kay Frydenborg; and "Handle With Care: An Unusual Butterfly Journey," by Loree Griffin Burns.
We wish the students happy reading and hope to read about them someday making a difference in the world of science.