Here's what you need to know about the president and CEO of the region's largest car dealership: "I'm not really a car buff.More given to cracking open a book than popping a hood, if you ask Rob Cochran about his first car — just about anyone can rattle off the model, year and color — he doesn't have a specific answer.
"It was merchandise," he said, recalling the early days of growing up in the car business started by his late father. "I remember my father saying, 'We don't fall in love with the cars.'"
Rather, what drew him to join his father's company in 1987, five days after he graduated from Carnegie Mellon University with degrees in applied mathematics and industrial management, was that the business was changing.
And change it has: In the past two years alone, the region has seen many of its family-owned dealerships, facing the baby boomer retirement dilemma, snapped up by massive national players who are buying into the Pittsburgh region.
But not #1 Cochran, which has not only been holding its own, but also acquiring new vehicle franchises and successfully competing head-to-head with the incoming national players. The company has grown to become the 11th-largest private firm in the Pittsburgh region, growing its revenue 23.3 percent between 2017 and 2018.
Cochran's clear on where he's driving his business, whose 2018 sales of $838.8 million accounted for 8 percent of the $10.6 billion collectively posted by the members of the Greater Pittsburgh Automobile Dealers Association.
"It's always been part of who we are as a company to assume a leadership role of this industry in this region," Cochran said. "We like that expectation of ourselves. That pushes us."
A fast-track to growth
The story of #1 Cochran starts with the Pontiac dealership Bob Cochran, Rob Cochran's father, opened in North Braddock in 1965, a year before Rob Cochran was born.


Bob Cochran, Rob Cochran's father, opened up a Pontiac dealership in North Braddock in 1965, the year before Rob was born. The company has since grown to encompass 29 vehicle franchises.
The younger Cochran joined the business in 1987, then just two dealerships, the same year his father christened it "#1 Cochran." They formed a close-knit and formidable team. In 1989, the company was named the top Pontiac Retail Sales Dealership in the world.
But the time father and son worked together was cut short. Rob Cochran was named president and CEO in 1992 as Bob Cochran battled cancer, succumbing in December 1993.
Since then, Rob Cochran has built the company steadily. Today, #1 Cochran encompasses just shy of 30 new vehicle franchises, and its dealerships are dotted along many of the region's major roadways.
The Monroeville headquarters of #1 Cochran, established in 2003, is almost a city-state in and of itself, with massive showrooms, each surrounded by lots. And since 2012, the company's pace for buying has been steady. Starting with the purchase of Charapp Automotive in Natrona Heights, #1 Cochran has notched seven deals that have spread its geographic reach into Washington, Westmoreland and Butler counties, "the outer rim of the metro," Cochran said.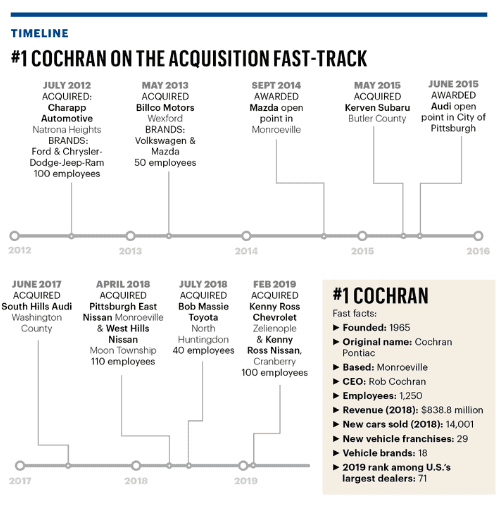 The growth hasn't gone unnoticed outside Pittsburgh. When industry trade publication Automotive News released its ranking of the top 150 U.S. dealership groups on March 25, #1 Cochran was No. 71, up 22 spots, the biggest gain on the list. The company increased new vehicle sales in 2018 by 31 percent, nearly 3,300 additional vehicles.
Last October, #1 Cochran opened a four-story Audi store in the Strip District, which doesn't seem all that remarkable to the casual passerby. But behind the scenes, it truly was a big deal, culminating a process that started in 2015 when Audi of America decided to award an "open point," which is auto speak for a location where a manufacturer would like to have a store.

The service entrance of the Audi Pittsburgh dealership, located in the 2000 block of Liberty Avenue in the Strip District. #1 Cochran competed against 30 other groups before it was selected by Audi to open the four-story Audi store.
Such opportunities are rare, so it triggered frenzied activity as Audi took a year to make its selection.
"We competed against 30 other groups, most from out-of-town," Cochran said. "We had going for us our track record in western Pennsylvania. And manufacturers like us."
Cochran steered Audi to the Strip, a hot area for development within the city that's also accessible and convenient to customers in upscale neighborhoods. Billed differently from his other stores, the dealership is known as "Audi Pittsburgh, A #1 Cochran Premier Brand."
Manufacturers' input has become increasingly crucial. And #1 Cochran was uniquely positioned to capitalize.
Kevin Tynan, a Bloomberg Intelligence senior industry analyst who tracks the automobile sector, wasn't surprised that Audi chose #1 Cochran.
"There's a reasonable advantage to going with the incumbent in the market," he said. "It's mom-and-pop versus the impersonal volume-factory big-box store. They see the benefit of dealing with a name the local community knows."
Looking out for #1
The Audi bidding war occurred just ahead of another, much larger game-changer for local auto dealers — the entry of big players into the Pittsburgh market.
Just two years ago, southwestern Pennsylvania was untouched by a massive national trend of public companies, conglomerates and private equity firms snapping up family-owned dealerships. That changed in May 2017, when Medford, Oregon-based Lithia Motors Inc. bought Cranberry-based Baierl Automotive Group. Two months later, most of Kenny Ross Automotive Group was acquired by GPB Capital Holdings LLC, a New York-based private equity firm, and then in early 2018, Lithia bought most of Day Automotive.
In the car world, transactions aren't just between buyer and seller. Manufacturers call the shots, and they determine who'll get a dealership. They must approve any sales and can exercise the right of first refusal.
"(Dealers) do as they're told," said John Putzier, CEO of the Greater Pittsburgh Automobile Dealers Association, which represents 150 new car and truck dealerships in 11 western Pennsylvania counties.
"You can have facilities less than a year old, and (manufacturers) want you to completely modernize. Manufacturers dangle carrots on sticks over the dealer's head. They're not the ones spending the money for the Italian marble and all the things they think are necessary to sell a car. Dealers won't say this, but I will."
The costs and frustrations have prompted some dealers to sell, Putzier said. The other big deal driver is succession, a huge factor in Pittsburgh as baby boomers, mostly second-generation owners, look to exit and their children aren't interested.
"I don't think we've seen the end of (consolidation)," Putzier said.
#1 Cochran has bucked the trend, continuing to acquire even from the national players themselves. In February, GPB sold two Kenny Ross dealerships in Zelienople and Cranberry to #1 Cochran.
The two Kenny Ross stores were swiftly rebranded "#1 Cochran Chevrolet" and "#1 Cochran Nissan Cranberry." The deal marked the company's first-ever Chevy store; included a collision center, now the eighth Body by Cochran Collision/Customization location; and took #1 Cochran's employment to 1,250. (The body work component is of growing importance as owners seek to diversify their revenue base.)
"This particular opportunity in large part was facilitated by the automobile manufacturers, Nissan and GM," Cochran said. "A lot of ways we find opportunities is because of the great relationships and track records we have with the manufacturers. Locally and regionally, we've turned into the first call for people who are thinking it's time to exit or have a group of stores that aren't fitting what they're trying to do."
It comes down to relationships, Cochran believes, "knowing the people we've done business with in the past who feel they've been treated fairly and that we're easy to deal with."
Rob Cochran stands in his latest car dealership, Audi Pittsburgh, located in the 2000 block of Liberty Avenue in the Strip District. Finding opportunities for growth comes down to relationships, Cochran said, "knowing the people we've done business with in the past who feel they've been treated fairly and that we're easy to deal with."
It also doesn't hurt that #1 Cochran has momentum and size, which has fended off potential offers. Cochran said he's never been approached by a suitor.
Going forward, how the outside buyers with deep pockets will impact Pittsburgh's car sector is anyone's guess.
"Right now, it's a litmus test," Cochran said.
But Putzier believes #1 Cochran is well-positioned in this new environment.
"Pittsburgh is a big small town or a small big town, however you want to put it, and this market likes to have a family name associated with a business," he said. "Rob Cochran is the biggest buyer locally, and he prides himself, even though he's a mega dealer, to do everything in his power that it doesn't lose the hometown touch."
Driving into the future
Cochran's office is small, nondescript, distinguished only by an array of family photos, mostly taken when his kids were small.
He spends a lot of time at the newest sites, getting to know employees and fostering team spirit.
"It's called management by walking around and speaks volumes," Putzier said. "When a family business gets that big, that's one of the concerns of losing control of day-to-day and facing the customers. Rob is one of the best at that. He's driven by the right reasons."
And he's also played a role in training the industry's emerging leaders. Shawn Kukic, Lithia's group vice president and top executive in Pittsburgh, came to the public company after six years at #1 Cochran.
"Operationally speaking, Rob invested in my development; he put me through an apprenticeship program and sent me to the NADA (National Automobile Dealers Association) academy for up-and-coming professionals," Kukic said. "That was part of my training, but I also got to shadow Rob and learn more about what it takes to run a dealership."
As succession issues weed out many of his long-time competitors, Cochran, at 53, has time on his side.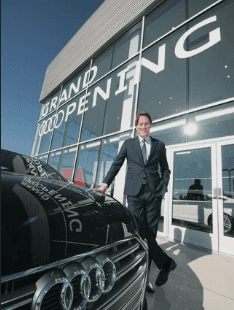 He and his wife Christina have five children. Their daughters are grown with two working, respectively, in acting and television production; the third is a student at Georgetown University. Both sons are still in high school and have yet to pick colleges, let alone careers.
"It's always something you'd like to see, moving on to the next generation," Cochran said. "But I'd only want that if they have the passion and competency to lead the organization."
What he doesn't want, he emphasized, is to transition the business into the wrong hands.
Meanwhile, the dynamics of the landscape continue to evolve. There are still many national players on the expansion trail who have not entered Pittsburgh and can't be counted out.
Lithia, No. 3 on Automotive News' latest list, wants to buy more in the market, Kukic said. And there are smaller locals who are game for deals.
"We are always open to discussing new acquisitions, whether it's with a brand we have currently or new brands," said Gary Bowser Jr., dealer principal at Bowser Automotive. "If we feel the locations and brands make sense for our group and employees, then we would be open to considering expanding."
Cochran is similarly measured about his strategy.
"As we look down the road, whatever the brands are that people like in the marketplace, those are the brands we want," he said. "Our job as a regional retailer is to provide people in western Pennsylvania with options and choices."
Cochran doesn't say how big he wants his company to be.
"I just want it to be better," he said. "I've never been one, even though I'm a math guy, to say we want to grow by this percentage. I focus on looking inward. That's what we do every day."